Commercial Services
Hard surfaces in commercial properties can suffer wear and tear when exposed to heavy foot traffic, spills, and chemical cleaners. Sir Grout of Jupiter's commercial services are top of the line and effective in any setting. Most commercial environments, such as hotels, office buildings, hospitals, restaurants, schools, etc., are subjected to heavy daily wear and tear.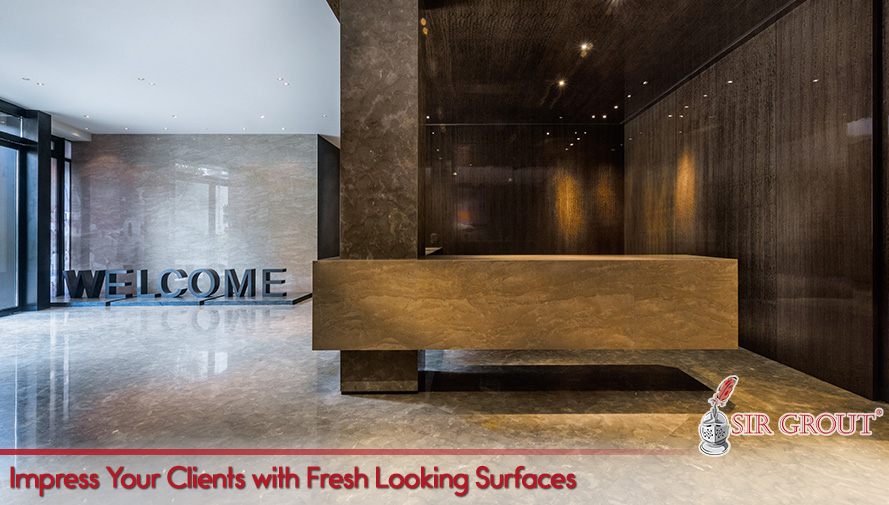 Over time, this leads to the deterioration of the surfaces. Dirty grout lines in a public restroom, for instance, are not only unsightly and unappealing; they can harbor mold and mildew, posing a health hazard for the users. Our award-winning processes can fully restore any damage, sanitize the environment, and leave any surface pristine and spotless, ensuring your commercial setting is always attractive and safe for your customers.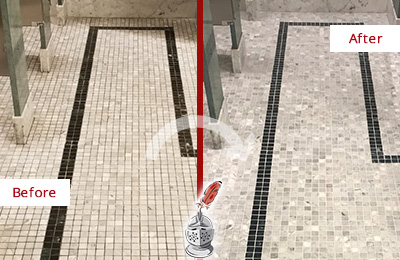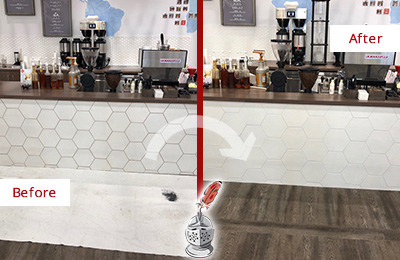 Commercial Benefits of Sir Grout of Jupiter's Hard Surface Restoration Processes
Cost Effectiveness If the surfaces in a commercial building look rundown, it might not be appealing to customers. Gorgeous-looking walls and floors are always a must to attract more and more clients. For this reason, many commercial building owners think about remodeling if there is any damage on one of their surfaces. Unfortunately, remodeling not only takes time, man-power, and effort, it costs thousands of dollars, making it not an ideal choice. Our hard surface restoration processes can achieve incredible results and leave any surface looking like new for only a fraction of the cost and time.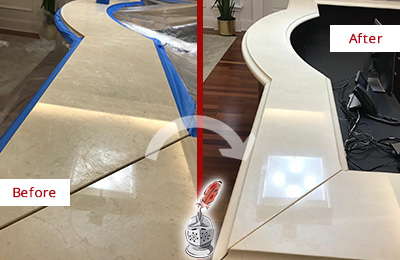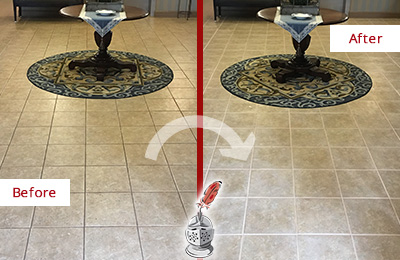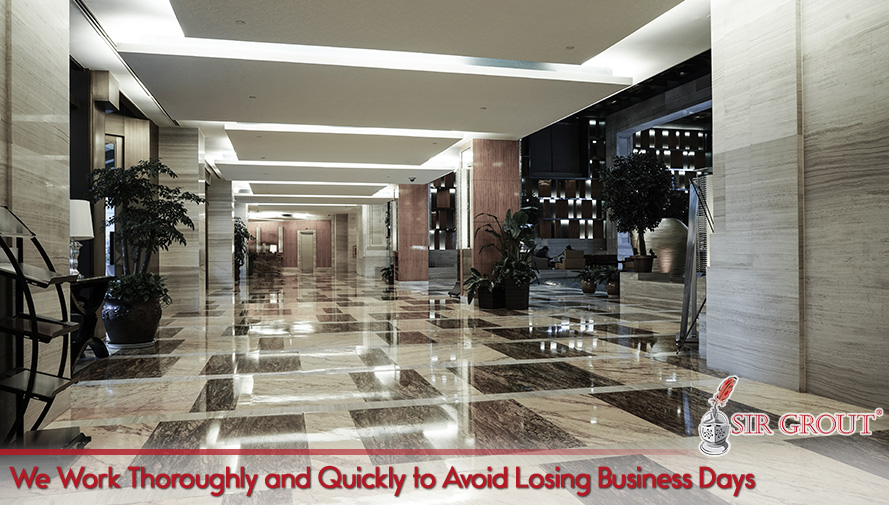 Convenience Losing business days for repairs is not the most optimal situation. We can assess damage on any surface and offer an effective solution in a matter of moments. We work thoroughly and quickly to ensure the best results possible. Sir Grout of Jupiter's hard surface restoration processes don't pose any inconvenience for the owners or the customers. We are brief, quiet, and we always put safety first.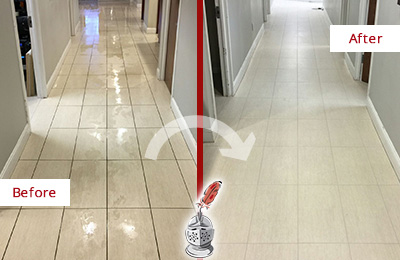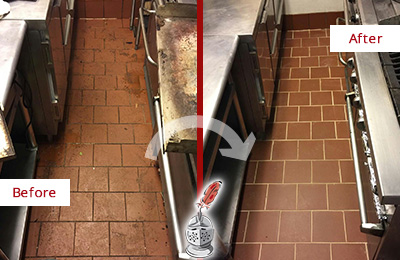 Professional Display A clean and healthy environment says a thousand unspoken words. Customers can discern the quality of a place with one look. A beautiful, well-maintained establishment will stay on their minds, and that's the image they will remember and tell friends and family about. On the other hand, if the place's appearance leaves a negative impact, they probably won't recommend its business to anyone. We make sure your surfaces always project the image of quality your company deserves.
Healthier Environment We have the most effective techniques and high-end equipment to provide the best commercial service. We also have exclusive, high-quality products specially designed to leave the surfaces clean, healthy, sanitized, fully sealed, and protected. Our flagship Sir Grout's Natural Hard Surface Cleaner is a top-notch product we use to clean the surfaces before we begin any restoration. This cleaner is pH-neutral and safe for tiles, grout, and natural stone because it won't leave any residue behind. It is also equipped with an enhanced formula that helps protect the surfaces from bacteria, fungi, mold, and other microorganisms. Not only do we use this product in our process, it is available for you to purchase at any time on our website.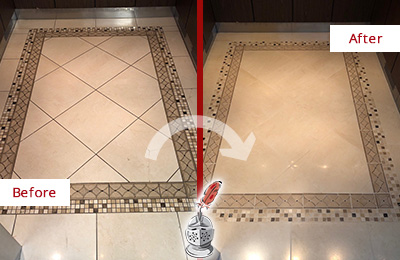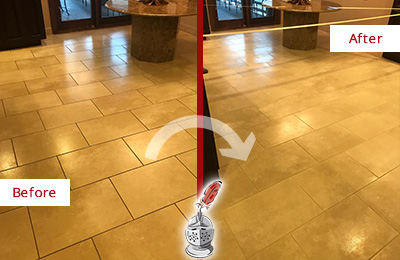 Easier and Faster Maintenance Any surface treated with Sir Grout of Jupiter's restoration process is easy to maintain afterward. Furthermore, we always take time to give your cleaning staff recommendations and suggestions for proper maintenance. We also offer a maintenance program to keep your surfaces looking their best all the time.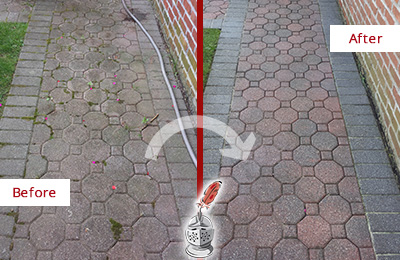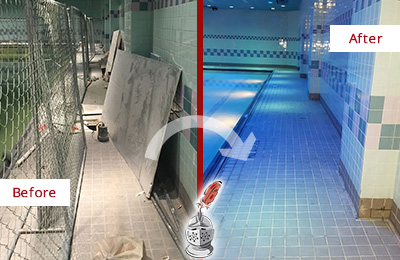 Wide Selection of Services We are leading experts in hard surface restoration. We have years of experience working on tile, grout, and natural stone surfaces. For this reason, the commercial services we offer are extensive and tailored to your needs. For more information of all the services we have at your disposal, please click the links below. We are sure you'll find what you are looking for.

Tile and Grout Services

Grout Recoloring and Sealing
Tile and Grout Cleaning and Sealing
Caulking
Slip Resistant Application
Tile and Grout Care Tips

Stone Services

Marble Honing and Polishing
Granite Honing and Polishing
Travertine Honing and Polishing
Slate Cleaning and Sealing
Stone Cleaning and Sealing
Stone Cleaning and Color Enhancement
Stone Countertop Sealing
Slip Resistant Application
Stone Care and Products
Call Sir Grout of Jupiter at
(772) 253-2888
or fill out the "Request a Quote" form at the bottom of this page to enjoy a free evaluation and quote for any of our local services in your home or office.
Read reviews from some of our commercial clients:
Courtyard by Marriott

"Tom, overall the floors look awesome! We are very happy with the results. Your team of technicians are professional, hard-working and I look forward to working with you in the future."

READ MORE

Devereux Glenholme School

"I would like to make you aware that we were extremely pleased with your work done on our tile floors. Our floors look almost new again. My only regret is we didn't find your company sooner. Your customer service folks were extremely courteous and professional from start to finish. Furthermore, my team and I agree that we cannot remember the last time we had technicians on-site that exhibited the same work ethic, manners and thoughtfulness your crew did. Well done! Thanks again for a great job and we look forward to seeing you again next year."

Fred C., Devereux Glenholme School
Washington, CT

READ MORE

Pitney Bowes

"Sir Grout is a leading innovator."

READ MORE