Stone Polishing: Giving a Floor in Stuart a Superb Restoration
September 02, 2023
A newly engaged couple was looking for a place to call home. They discovered the ideal house, complete with everything they needed. It also featured stone floors, but the couple noticed one of the floors was in poor condition. Despite this, they chose to move and figure out a solution afterward. They began looking for a stone polishing company as soon as they moved into their new home. Sir Grout of Jupiter was there to provide a solution.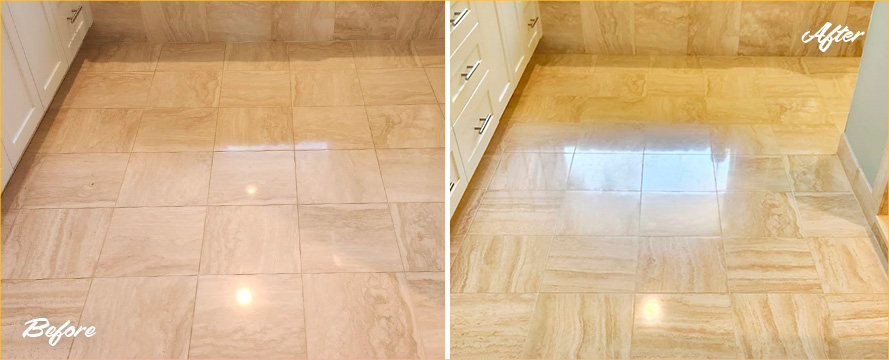 The homeowners discovered us after conducting a short internet search. They went online and searched for the best
stone polishing services in Stuart, FL
, and the top results led them to our website. They filled out the "Request a Quote" form and asked for a free assessment after thoroughly exploring our before and after
picture gallery
and reading the great feedback we receive from our delighted customers.
We arrived a few days after their request to conduct the in-home consultation. We were then brought inside the house to inspect the floor. We noticed the issues as soon as we walked in. The stone floor was worn and dingy. Liquid spills and harsh cleaning chemicals were most likely to blame for the state of the floor. The floor was unsealed, as we discovered when we looked closer. To avoid further damage, we advised the owners to have the surface wholly sealed.
The inspection provided us with the information we needed to offer a solution. We had determined that normal cleaning would not be helpful. We needed Sir Grout's high-end equipment and skilled methodology for a successful restoration. We recommended a multi-step stone polishing procedure to fix flaws and restore the stone's luster. Because the offer fulfilled the owners' expectations, we were hired, and a date for the service was scheduled.
We were ready to start the restoration when we returned. Our procedure follows a set of steps to attain the best results. First, we used our stone-safe cleaner and a high-speed scrubber to clean the surface. Our one-of-a-kind product will not harm the surfaces and provides many advantages. After cleaning the stone, it was time to hone it. We would be able to undo all of the damage with this step.
We used three sets of professional diamond honing pads to complete this task, each with increasing grit levels until no signs of deterioration were visible. To give the stone a brand-new sheen, polishing is required after honing. We polished the entire surface until we obtained the finish the owners wanted. We started the sealing procedure after we were done honing and polishing.
Our team applied a coat of ColorSeal to seal the grout lines. Our sealant prevents liquid absorption while keeping dirt, filth, and other external agents at bay. This helps to avoid degradation and to make cleaning practices simple and quick. Our sealer also gives the surface a fresh look and provides long-lasting protection. Our meticulous effort resulted in a significant restoration; the surface had been completely renovated, and the floor had a lovely shine.
We called our clients and showed them the results after we finished the stone polishing multi-step procedure. The owners were impressed with the brilliance of the surface. The couple was so amazed at our job that they told us it was beyond their expectations, and before we departed, they thanked us and promised to recommend our services in their neighborhood.
Stone flooring is a terrific choice for any surface since they are stylish, beautiful, and long-lasting. They are, nevertheless, vulnerable to deterioration and require special attention. Following our guidelines is critical to preserve these surfaces in good shape. We recommended establishing a weekly cleaning program to prevent degeneration. Use only pH-neutral, soap-free cleaners like
Sir Grout's Natural Hard Surface Cleaner
.
Our product is non-staining and provides outstanding results. It's also non-toxic and safe for everyone at home. Soap-based cleaners and products with acidic properties are not recommended. These products contain chemicals and abrasive substances that can affect the stone, resulting in dull patches, etching, and other signs of deterioration. It's critical to keep the area dry. Immediately dry the floor with a paper towel or absorbent cloth if a spill occurs. Abrasive tools should never be used since they can produce scratches.
Sir Grout of Jupiter offers the most effective stone polishing services in town, as evidenced by the before and after pictures. If you wish to restore the look of your home's surfaces, our skilled specialists can assist you. We have years of experience as a leading company in the hard surface restoration market. Call us at
(772) 253-2888
or fill out the "Request a Quote" form on this page to schedule a free consultation today. If you want to keep up with our latest news and promotions, subscribe to our
newsletter
.