Our Stone Sealing Experts Provided These Homeowners in North Palm Beach With a Solution for Durable and Spotless Floors
January 07, 2023
Because of their durability and all-natural beauty, stone tiles are an excellent addition to any home. They come in many different varieties, like granite, marble, and travertine, each having unique qualities. They also give any space a feeling of class and sophistication. Nevertheless, it's crucial to remember that these surfaces still require appropriate care because they can grow dingy and dull over time if they aren't regularly cleaned and sealed. To preserve the original beauty of your stone tiles and to safeguard them against harm, it's critical to use proper cleaning supplies and methods.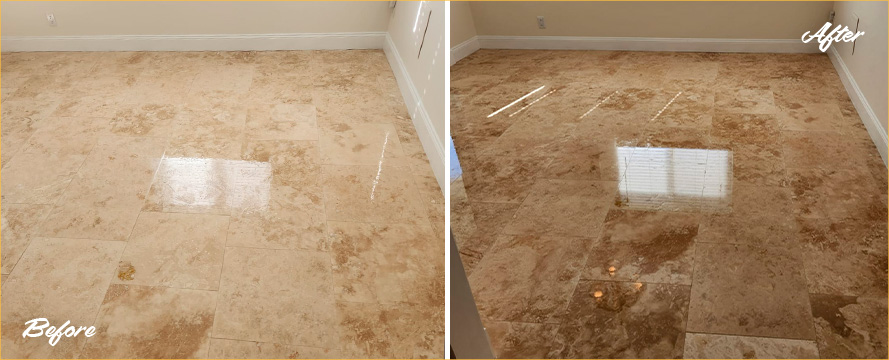 An engaged couple from Palm Beach, FL, wanted to improve the look of their stone-tiled floor. They cleaned the surface regularly, but despite their best efforts, it looked discolored and old. Nothing they had tried so far worked. After discussing their options, the couple sought professional assistance and searched online for
stone sealing services in North Palm Beach, Florida
. Thankfully, they found Sir Grout of Jupiter. On our website, they conducted thorough research, reading testimonials from our happy customers and our before and after blogs. Realizing we were the best choice, they requested a free in-home consultation by filling out the "Request a Quote" form.
We went to the couple's residence to evaluate the surface as requested. Starting the inspection, we noticed the stone-tiled floor looked discolored and old. In addition, the grout lines had gathered dirt, giving the entire surface a shabby appearance. We also saw it was unsealed, a problem because it was exposed to water, dirt, and other external agents. Left unchecked, this can result in serious issues, such as structural damage.
After completing the evaluation, we determined that the issues needed professional attention, so that a successful restoration would require Sir Grout's skilled procedure and high-end equipment. We offered the couple a stone sealing procedure to improve the surface's appearance and provide a durable layer of protection for the stone-tiled floor. Happy with the evaluation, the couple hired us.
Later that week, we returned to begin the restoration. We started the multi-step stone sealing procedure using a safe, pH-neutral cleaner to penetrate the tiles and grout deeply, removing dirt and grime. Then, we used our high-speed scrubber to clean the entire surface. The next step was the sealing process.
We finished by sealing the surface using Sir Grout's exclusive sealer to protect this floor from future stains and spills. This water-based, non-toxic product offers a resilient layer of protection that beautifully enhances the surface. Additionally, with proper maintenance and care, this shield can last long. After a successful restoration, we called our clients and showed them the results. The owners were pleased with the outcome and found the floor's fresh and bright look delightful. Impressed with our performance, the couple thanked us and told us our work exceeded their expectations. Before we left, they assured us they would recommend Sir Grout of Jupiter to everyone.
Our stone sealing offers a variety of advantages that will leave any stone surface looking new. It is an affordable solution, making it accessible to all. Likewise, our process provides deep cleaning, removing dirt and grime. Regular cleaning cannot. Additionally, tiled surfaces will be protected against stains, deterioration, and damage, and cleaning routines will be much easier. With our assistance, dingy, hard surfaces can be beautiful again.
Stone surfaces that are subjected to constant foot traffic can deteriorate quickly. As a result, they must be adequately maintained. Sir Grout's recommendations are essential to keep these problematic areas in top condition. We recommended establishing a weekly cleaning routine to minimize dirt accumulation. For this task, use only soap-free, pH-neutral cleaners, such as
Sir Grout's Natural Hard Surface Cleaner
for best results. Our cleaner won't harm tiles or grout, and it's also non-toxic and safe for everyone at home, including pets.
Soap-based cleaners and acidic substances should be avoided. These solutions leave a foam that seeps into the grout and contains substances potentially harmful to the surface. Use a clean mop to apply the cleaning product, and allow the floor to dry completely before entering the room again. We don't recommend using abrasive tools to clean stone tiles because they can leave scratches.
Keeping your home's floors spotless can be a challenge but with Sir Grout of Jupiter's stone sealing services can quickly bring back their beauty. Say goodbye to your challenging surface problems, and contact us today by calling
(772) 253-2888
or by filling out the "Request a Quote" form on this page to schedule a free consultation today. If you want to keep up with our latest news and promotions, subscribe to our
newsletter
.